We put more into it.
So you can get
more out of it.
Ultimate Tennis is loaded with amazing
state-of-the-art features to make your
league play more enjoyable.
Great matches
At Ultimate Tennis our entire league system is set up to do one thing - deliver you the best league matches you've ever played. It's what drives us every day. We never lose sight of the fact that when you play tennis at the right level, with good people, there's not a more enjoyable sport in the world. No other league consistently delivers better matches.
Superior website
The Ultimate Tennis website gives you state-of-the-art tools to efficiently manage your season. Get instant match results, scout opponents, follow friends, report scores, and access playoff draws all with the click of a mouse. You'll also enjoy beautifully clean page designs, intuitive menus and Facebook style player reports.
Accurate ratings
When you play Ultimate Tennis you'll quickly discover the benefits of a good rating system. Plain and simple, your set scores will be close and your matches will be exciting and competitive. That's because we use an intelligent rating system and an accurate process for ranking new members.
Pro style playoffs
At the end of each league we feature large post season playoff tournaments just like the pros. While most leagues only take the top two teams to the playoffs, we routinely feature draw sizes of 32, 64 and even 128 players. Finish in the top 50% of your skill level and you'll qualify for the main event. There you'll compete against the best players from around town to see who will earn the title of "City Champion".
Great prizes
It's more fun to compete when there's a little something on the line. Win your skill level and receive sponsor prizes, a championship crystal award and your picture on the Ultimate Tennis web site. The top men's and women's divisions receive up to $500 in cash.
Get started now!
Expanded playing levels
Tennis is more fun when you play people at your level. Ultimate Tennis offers up to 13 skill levels, twice as many as traditional leagues and a highly accurate rating system that is specifically designed to deliver you consistent competition.
Incredible stats & standings
If you're a stats person you're going to love scouring the tremendous wealth of match data to predict the outcome of your next match. Just click on a player's name to access complete history on every match they've ever played. We even provide head to head analysis of key stats and common opponent displays for hard core users.

Automated scoring
Whenever a match score is reported, the stats and standings are updated instantly. This also triggers a confirmation email to be sent to both players verifying the match score was entered correctly. You're always up to date with the latest match results!
Relentless innovation
For more than 20 years Ultimate Tennis has led the industry in innovation, but we can't take all the credit. It's our members' high expectations that drive us to improve our league. Players expect our league service to get better every year and have good ideas on how that should happen. So we've been doing what any smart company would do - we've been listening.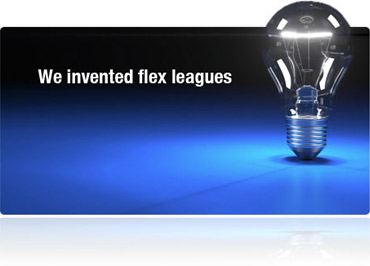 I have tried all the flex leagues including the USTA's and none compared to Ultimate Tennis. From the organization of the league, to the online application, rules, stats, as well as the price, nobody does it better! — Patrick Tate, Charleston SC