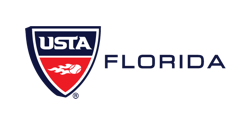 FOR IMMEDIATE RELEASE
USTA Florida and Ultimate Tennis Team Up To Grow Flex Leagues
DAYTONA BEACH, Fla. – January 24, 2014 – USTA Florida and Ultimate Tennis today announced that they have entered a multi-year agreement to jointly run flex leagues in the state of Florida. The partnership leverages the strength of the USTA Florida's organizational network and the outstanding program and service components of Ultimate Tennis – the industry leader in flexible format tennis leagues.
Under the new agreement, USTA Florida Flex leagues will transition to Ultimate Tennis, presented by USTA Florida. The new co-branded leagues will be managed by Ultimate Tennis and promoted under the Ultimate Tennis brand. Current USTA members will receive an additional member benefit of $10 off their registration fee per person.
"USTA Florida is very excited to have Ultimate Tennis as the provider of Flex Leagues in Florida. The goal of this partnership is to increase the variety of league play options for tennis player across the state. We expect a huge increase in participation, as this format is more time-friendly to play," said USTA Florida Executive Director Doug Booth.
"This partnership will unify flex leagues in the state of Florida which will improve the player's experience by offering players shorter drive times, better player variety and the ability to offer divisions at all levels and sections of town," said Scott Nunn, chief operating officer at Ultimate Tennis.
Flex leagues are specially designed to meet the demands of today's busy lifestyle by providing competitive match play for those with limited playing time. The leagues are popular with working people or anyone that would like to join a tennis league but can't commit to same schedule each week or weekend league play. Flex leagues match players of equal skill levels into local playing divisions using a convenient flexible match scheduling system. Seasons consist of 5 to 7 matches and top players in each division may continue playing for city championships. In addition, UltimateTennis.com provides players with state-of-the-art online tools to efficiently manage their season. Players can review match results, scout opponents, follow friends, report scores, and access playoff draws all with the click of a mouse.
Ultimate Tennis currently conducts flex league play in the Tampa Bay Area, Sarasota, Bradenton and Ft. Myers. In the spring of 2014 Ultimate Tennis will launch three new flex leagues in Naples, Orlando and Jacksonville, with additional markets to be announced later in the year.
About Ultimate Tennis Ultimate Tennis founded the flex league concept in 1990 in Tampa, Florida. In 2013 Ultimate Tennis merged with T2Tennis based in Atlanta, Georgia creating the largest flex league in the United States with a membership of over 100,000 players. Currently flex leagues are offered in Atlanta, Tampa, Sarasota, Ft. Myers, Charlotte, Denver, Los Angeles, San Francisco, Austin, Dallas, Houston and San Antonio.
Ultimate Tennis flex leagues feature singles, doubles and mixed doubles flex league play four seasons a year; Winter, Spring, Summer and Fall. The league offers skill levels from 2.5 to 6.0 players and provides a highly accurate rating system to ensure players are matched with others right at their skill level.
To register or for more information about leagues in your area go to UltimateTennis.com.
###
Established in 1949, USTA Florida is a section of the United States Tennis Association. It is a not-for-profit volunteer organization with approximately 50,000 members, 1,000 organizational members and a $4 million budget. As the official governing body of tennis in Florida, USTA Florida operates from an executive office in Daytona Beach with 28 staff members and more than 600 volunteers throughout the state working towards a mission to promote and develop tennis in Florida. To learn more about USTA Florida visit www.ustaflorida.com.

FAQ'S
I've never played Ultimate Tennis, how do I get registered?
If you or your partner are new to Ultimate Tennis follow these steps:
Go to Ultimate Tennis and create a player profile for each member that is new to Ultimate Tennis.
Once you have created a profile, click the register button and sign up for your desired event.
If you need help or have questions regarding any aspect of the league, email our fantastic customer service staff at: customer.service@UltimateTennis.com
---------------
Will my Ultimate Tennis skill level / rating affect my USTA rating and level?
No, your USTA rating will not be affected by your participation in Ultimate Tennis. The leagues are completely separate with regards to ratings and skill levels.

----------------
What skill level should I play?
In your first Ultimate Tennis season, we recommend that you register at your designated USTA level. You cannot play below you USTA level (in your first season) however you can play above your USTA level if you feel it is more appropriate based on your recent play or comparison with a current Ultimate Tennis League member. After each league season the Ultimate Tennis computer will adjust your skill level (if necessary) based on your match results.

----------------
Do the Ultimate Tennis Flex leagues operate the same way as USTA Flex Leagues?
Both leagues are similar but use slightly different scoring and ratings systems. However, your matches are set up, scheduled and reported using a similar flexible match scheduling system. One main difference is that Ultimate Tennis Flex leagues offer a playoff tournament at the end of each regular season. About 50% of the players / teams will qualify and are seeded in the draw based on the standings. The playoff finals are hosted at one of the local clubs in your area with prizes for the finalist and champions.